Did I get your attention with that title? Good. Keep reading!
The furor over Chick-Fil-A has grown to epic proportions. Who would have thought the simple matter of a CEO expressing his support for the biblical model of marriage would result in expressions of rage, boycotts, and pronouncements by government officials that Chick-Fil-A is not welcome in their cities.
One graphic floating around the internet captures the irony—and hypocrisy—of the situation:
"So, you stopped eating at Chick-Fil-A because the CEO
of the company thinks that homosexuality is wrong.
Tell me, when are you going to stop buying gasoline because the owners of OPEC put homosexuals to death?"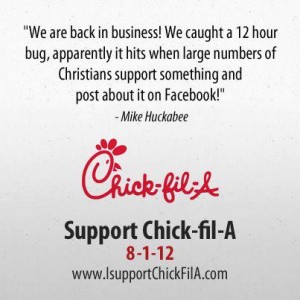 Still, the bright spot in all this is the groundswell of support for Chick-Fil-A from the Christian community. A Chick-Fil-A Appreciation Day has been declared for August 1, 2012. Which brings me to the title of this post.
Don't Eat at Chick-Fil-A on August 1.
Don't get me wrong. I do support their stance. But…
Hundreds of thousands, if not millions, of people will descend on their restaurants in one day. Even with the best of intentions, tempers will flare, food will run out, and customer service may suffer.
Instead…consider eating at Chick-Fil-A on a regular basis. Add it to your weekly fast-food rotation. Use them to cater your next get-together. Extend them your business long after August 1 is a forgotten memory.
If we're serious about supporting companies who espouse biblical principles, we need to do it on more than one day.
So go ahead…eat at Chick-Fil-A on August 1st if you must. But let that be the first of many, many visits. That's the way to send a real message.