The older I get, the more sensitive I am to the passing of time. Today is March 15. Halfway through the month. As I pull out my calendar, I mentally scroll through my schedule for the rest of this month. Things to do, places to go, people to see.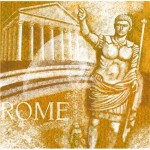 Still, March 15th is not as bad for me as it was for Julius Caesar. Poor Caesar. March 15th was just another day for most people. But not for him. Although he belittled the warning that he would be harmed on or before this date, the prophecy came true. Caesar was stabbed to death in the Roman Senate by at least 60 conspirators. Shakespeare immortalized the event in his play, Julius Caesar, with the line "Beware the Ides of March."
Time marches on…for some of us. For others, like Caesar, this is the day time will cease to be measured. We have no guarantees that another day will come. In the past several weeks, two families I know lost loved ones. One family lost a precious 25-year-old son. The other lost a beloved 92-year-old great-grandfather.
Although we don't know how many days we have, God does. Psalm 139:16 tells us, "all the days ordained for me were written in your book before one of them came to be."
Still, we do have the gift of this moment. We have this moment to be. To rest in the assurance that if you have trusted Christ as your Savior, you belong to the Creator of the universe. To be thankful for all that we are and all that we have. To love the Lord and to love others.
Psalm 90:12 encourages us to "number our days, that we may gain a heart of wisdom." This doesn't mean we should try to predict the number of days we have left. Rather, it means we should appreciate the limited number of days we do have—however many they are. To use each day with wisdom and discernment. To live in a way that leaves no room for regret.
Let's not take our moments for granted. Caesar's final day was the Ides of March. We don't know when our final day will come. Until then, let's not take our days for granted. Each day—each moment—is a gift.
Treasure it.
What are you doing with the gift of this moment?