It's only November 2nd, but I've been playing Christmas carols for a few weeks. And I'm looking forward to the start of the Hallmark channel Christmas movie weekend marathon that will begin this Friday.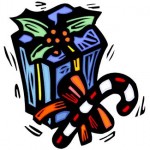 Yup, I'm one of those people. 😳 Hi, my name is Ava and I'm a Christmasphile. In case you're wondering, a Christmasphile is someone who is head-over-heels enamored with all things Christmas. We're out there…singing along to Christmas carols in the car, humming to the canned Christmas music in Walmart, taking a deep breath—cough, cough—of the cinnamon-scented brooms in Publix.
But Christmasphiles everywhere share a common enemy. That enemy is time. There's so much we want to do, and never enough time to do it all. Bake, wrap, decorate, host—how do we fit it all in?
Being a good steward of our time means making time for the important things first. It requires knowing the difference between the important and the urgent—and I promise, they are not always the same.
As a gift to Christmasphiles across the county and around the country, I offer the following link to Marcia Ramsland's 2011 8-week Holiday Chart, thanks to Moody Radio's Midday Connection program. It's a tool to help minimize the stress of this busy and often challenging time of the year.
Who knows? By the time Thanksgiving arrives, maybe you'll actually be looking forward to Christmas!
🙂