My first book, One Year Alone with God: 366 Devotions on the Names of God, was published by Revell Books this month. My joy at the release of this project has been tempered by the need to market it through a website, blog posts, newsletters, Facebook author page, Twitter, book signings, and most recently, a launch party.
A recent conversation with a family member highlighted the tension inherent in promoting my book. "Why are you doing book signings?" he asked. "If God wants your book to sell, then it will sell. You should just trust Him." His voice was tinged with reproach and his meaning was clear: a mature Christian should trust God rather than schedule book signings and develop other marketing efforts.
Marketing and promotion. I am uncomfortable with this part of a writer's job. I dislike doing it and I hate that others – even family members – mistake my actions for self-aggrandizement. After all, I'm a Christian. The Bible tells me to be humble, to put others first, and – in the vernacular – to not toot my own horn. Proverbs 27:2 says to "Let another praise you, and not your own mouth; a stranger, and not your own lips."
Still, publishing is a business, and that includes Christian publishing. In these days of staff cuts and diminishing budgets, most authors can no longer expect their publishers to roll out the red carpet to market their books. Even before a book is contracted, the publisher wants to know what marketing plans you have for the project. If you're not willing to promote your book, your publisher probably won't be willing to publish it.
This is not about measuring success by book sales. Literary agent Chip MacGregor often speaks of significance over success. Chip defined significance as "making a difference in the lives of people over time." He notes that "significant people are those who made a difference in our world, whether they attained success or not."
My goal – my significance, if you will – is to glorify God with my life. That includes my writing, which I believe is a gift He has given me. If this is true, then my goal must also be to glorify God in my marketing, just as I sought to glorify Him in my writing.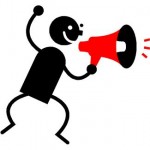 This is not about me. I never want my marketing efforts to be about self-aggrandizement. I don't want to be the one waving her book high in the air, shouting "Look at me! Look at what I've done! Buy my book!"
Rather, I want to promote my book because it is a work God has done in and through me. He has given me an ability to use words for His glory. He has opened doors to publication while many writers more talented than I am are waiting for their opportunity. This is about what God has done. That's what I want to say. I want to shout, "Look at my Creator! Look at my Redeemer! Look at what He has done!"
If, in order to do that, I need to "put myself out there" then that's what I'll do. But I'll do it in the hope that others will be blessed by the work He gave me, and they, in turn, will proclaim what He has done through this book.
Matthew 5:16 (NIV) says, "Let your light shine before men, that they may see your good deeds and praise your Father in heaven." Everything I do is for the purpose of giving glory and honor to my Father in heaven (I Corinthians 10:31).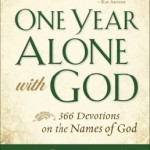 So, yes, I will continue to develop my website, write blog posts, send out a quarterly newsletter to those who subscribe, update Facebook, tweet on Twitter, and schedule book signings. Not because I want to draw attention to me, but because I believe One Year Alone with God with God: 366 Devotions on the Names of God, is His book. I believe it will be used by God to touch others for His glory. And if that's what I truly believe, how can I not tell others?
Do you think it's possible for writers to promote their work without promoting themselves?